Five mid-career Namibian professionals are to win Fellowships at DECIPHer to study how girls' education can lead to female empowerment.
Cardiff's award-winning Phoenix Project has secured Centre Status for up to five Commonwealth Professional Fellowships which will allow the recipients to collaborate and develop new skills around girls' education – the theme for this year's awards.
The visiting Fellows will spend three months collaborating with researchers from the DECIPHer research centre, School of Social Sciences, which sits within Cardiff University's Social Science Research Park.
Professor Judith Hall, Phoenix Project Director, said: "We are delighted to secure Centre Status for this Commonwealth Fellowship development on the theme of 'Girls Education: No-one left behind.' No girl should ever be left behind others during her education.
"We will now be working with Dr John Nyambe, Associate Dean, School of Education, of the University of Namibia (UNAM), Namibia's Ministry of Education and UNAM's Department of Social Sciences to secure five driven and energetic applicants intent on pursing our goal: gender equality in education."
"With teamwork and co-production, we feel certain that this Centre Status award will enable a direction of travel to meaningful impact when the fellows return to Namibia."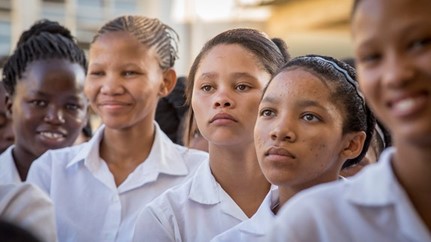 The placements will reinforce the Namibian Government's drive to reduce teenage pregnancies through greater female empowerment and education.
Welcoming the Fellowships, Dr Nyambe said "this is indeed excellent news, bringing a moment of hope for our girls' education. The University of Namibia embraces any opportunity that is intended to empower the girl child and enhances girls' education"
During their studies in 2022, Fellows will have access to a wide range of DECIPHer facilities including leadership training and reflective learning workshops.
The Fellowships are coordinated by Dr Honor Young and Dr Rhiannon Evans of DECIPHer with support from Professor Amanda Robinson, Professor EJ Renold and Dr Yulia Shenderovich.
Dr Honor Young, Senior Lecturer, DECIPHer, said: "We are delighted to secure the Commonwealth Fellowships and are looking forward to collaborating and learning with colleagues at the University of Namibia as we work towards our shared goal of gender equality in education."
Dr Rhiannon Evans, Senior Lecturer, DECIPHer, added: "This is an exciting opportunity for DECIPHer and our ambitions for the Social Science Research Park. International collaboration is a vital part of our work and we hope this will be the start of a rich and impactful future relationship."
The Social Science Research Park brings together 400 social science researchers from 13 groups to develop innovative solutions to societal problems through collaborative research activity. It will move to a bespoke centre, sbarc | spark, in winter 2021.
This article first appeared on the Cardiff University website.