On the 23rd of August 2017, DECIPHer was informed of the exciting news that the research centre had been nominated for the Cardiff University Celebrating Excellence Award 2017 in the research category. We were so thrilled to be nominated for this prestigious award that we couldn't resist shouting about it with pride to the world of Twitter:
@DECIPHerCentre Twitter – Celebrating Excellence Awards
The Celebrating Excellence Awards are presented annually by Cardiff University, as an opportunity for colleagues to say thank you to those who go the extra mile in their contribution to the University. The awards also reinforce The Way Forward strategy and recognise individuals and teams for their achievements in a variety of categories.
The DECIPHer team felt privileged and extremely grateful to have been nominated for this award in the research category, which demonstrates the outstanding commitment and hard work of each team member in their contributions to the wider university objectives. Therefore, we would like to extend a sincere thank you to the colleague who kindly nominated us for this fantastic award!
Team DECIPHer had been eagerly awaiting the awards dinner on the 9th of November, where the Celebrating Excellence 2017 winners would be announced for each category. The awards dinner was attended by our centre director, Professor Simon Murphy, alongside long-standing colleagues Sara Jones (Centre Manager) and Sarah MacDonald (Research Associate), who represented the entire DECIPHer team. We were eager to find out if we had been successful in achieving the award for excellence in impact in the field of public health improvement research and we are now honored and thrilled to announce that we won the award!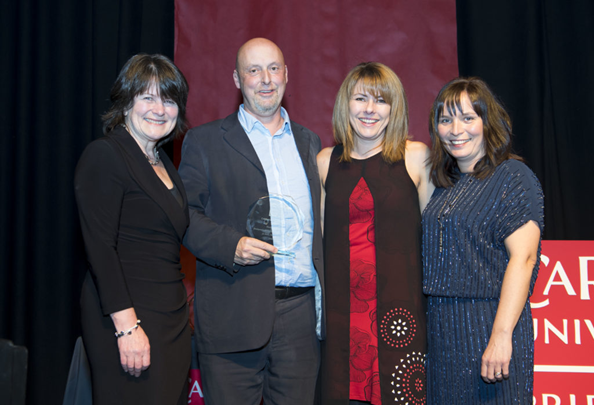 We are very proud of our achievement and our sparkling trophy is now on display at the DECIPHer office for all to see. Thank you to Cardiff University Celebrating Excellence Awards for recognising our valuable research and for putting on a wonderful evening of celebrations. Congratulations to all the other fantastic award winners and nominees too! It was great to see two of our DECIPHer collaborators, Professor Kerry Hood and Professor Paul Harper (pictured with Simon Murphy) also receive awards for Outstanding Leadership and Innovation respectively.