'It's really exciting to be part of this' – perspectives from health, wellbeing and education on connecting schools and families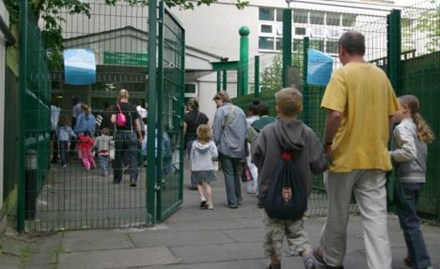 Image source: http://www.dailymail.co.uk/news/article-1386837/Private-schools-debt-collectors-force-parents-hand-unpaid-fees.html
Schools and families are two of the most important influences on children's lives and critical to their education, social development, and health and wellbeing. Family involvement in schools is a priority across a number of policy areas, including education, poverty and health and wellbeing, and family support. Despite an acknowledgement of the possible tensions, the forging of connections between schools and families has significant potential to impact positively on health and education outcomes. These were some of the issues considered in a recent DECIPHer seminar on 'promoting the health and wellbeing of children and young people through connecting schools and families'.
Over 50 delegates attended representing public health and education research, policy and practice. Dr Adam Fletcher chaired and introduced the seminar describing how the development and evaluation of interventions for promoting health in schools is one of DECIPHer's four strategic research programmes. He also described how the Centre is leading a new School Health Research Network in Wales, which brings together schools, researchers and key policy and practice organisations, to improve the quantity and quality of school-based health improvement research.
The seminar offered a valuable opportunity for researchers, policy makers and practitioners from health and education to discuss this important topic, including:
the policy context and how developing school-family connections addresses education and health agendas;
the evidence base on how school-family connections can promote health and wellbeing, and the challenges involved;
key learning from existing approaches to promoting connections between schools and families, and
priorities for future research and practice.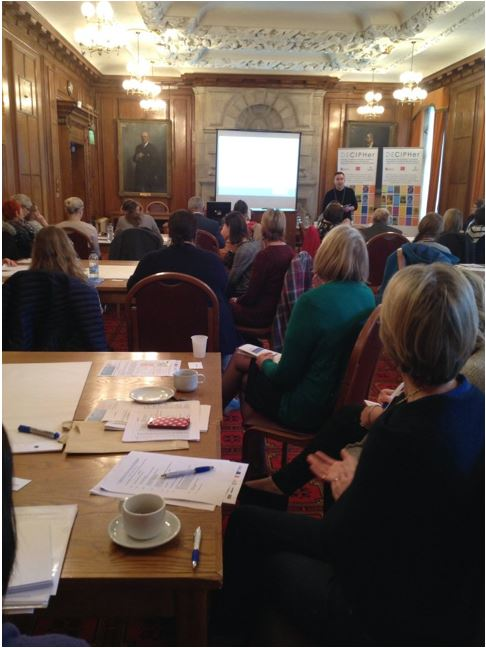 Connecting health, wellbeing and education policy agendas
The first part of the seminar set out the policy context for connecting schools and families. Emma Williams from the Support for Learners Division within Welsh Government gave an overview of the policy context for engagement, wellbeing and school improvement. This included the link between parental engagement and improved educational outcomes (particularly for those from disadvantaged backgrounds). The Welsh Government's toolkit – FaCE the challenge together: Family and community engagement toolkit for schools in Wales, was introduced as a way of overcoming the challenge of engaging families in schools and the toolkit has sparked local and global interest.
Secondly, Dr Julie Bishop, Director of Health Improvement at Public Health Wales gave an overview of the policy context for connecting families and schools from a public health and wellbeing perspective and began by considering why schools are important to health improvement. Health was conceptualised as a key driver for children's ability to learn, as articulated through the whole school approach to health and wellbeing which includes four key domains (curriculum, environment, services and connections, and culture and relationships).
Within the whole school approach, developing school-family connections is one area of weakness and three future priorities for investigation were put forward: supporting parents in tackling difficult issues and facilitating peer approaches; investigating health issues as neutral territory to engage; and building on parents' generally supportive attitude towards health issues in schools.
Connecting the evidence base
The second part of the seminar focussed on key messages and questions from the research and began with Dr Jeremy Segrott, a Research Fellow from DECIPHer at Cardiff University.
Jeremy introduced the public health research perspective on connecting families and schools by highlighting that existing research has provided evidence that family involvement can strengthen the effectiveness of school-based health promotion programmes. However, key gaps in the evidence base include: developing interventions beyond simple information provision to parents; and tackling low rates of participation.
To illustrate these issues and processes, Jeremy presented a case study of an evaluation of a school-based intervention to involve families: KAT – Kids and Adults Together programme. This was a universal primary school-based programme which aimed to prevent alcohol misuse among young people and the intervention highlighted children as the key driver for parental involvement, with parents engaging with the school in order to support their children.
Dr Janet Goodall, a Lecturer in Education at the University of Bath followed with an overview of the research evidence base within the field of education, and the starting point was the extent of child poverty and links with underachievement. Families were seen as central to addressing these issues and a key message in Janet's presentation was about shifting the discourse from 'engagement with schools to engagement with learning' with an emphasis on what parents do rather than who parents are. Research has shown that it is this sort of engagement that really makes a difference and this includes parents caring about their children's education, and their overall attitude towards learning. Suggestions to improve family school connections included: improving the home learning environment; helping parents believe they can support children's learning; supporting families at key transition points; and providing training for school staff and gaining leadership buy-in.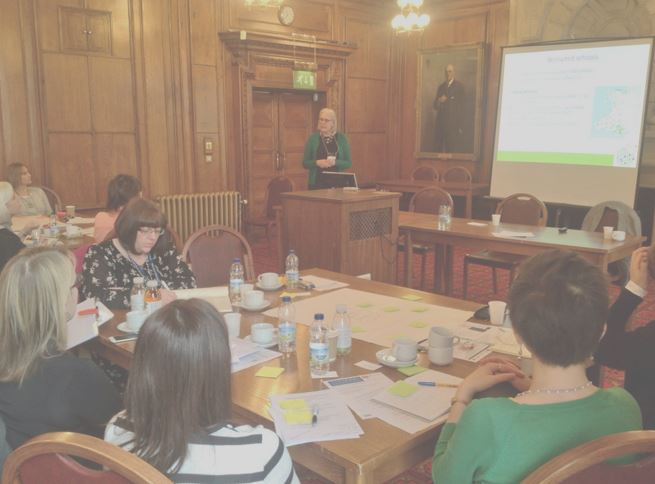 Connecting innovative practice across primary and secondary schools
The third and final part of the seminar focused on learning about innovative practice in schools. This began with Mary Charles from the Welsh Network of Health School Schemes (WNHSS) and Joan Roberts, from the School Health Research Network. The WNHSS began in 1999 and now includes all schools in Wales, and this provides a context for schools to connect with families for health and wellbeing. As part of the WNHSS, schools work through a national framework which includes family and community involvement.
Joan spoke about her work as a verifier for the National Quality Awards for the WNHSS and how schools working towards the Award have connected with families. This includes:
involving parents in the distributed leadership of schools, such as engaging parents in Healthy Schools Planning Groups;
supporting the personal development of parents through providing opportunities for parents to volunteer in schools; and
utilising schools as sites for services to support families.
Closely aligned with the WNHSS is the School Health Research Network which now includes 115 secondary schools representing all 22 local authorities in Wales. One of the benefits of being part of the network is involvement in the biennial Student Health and Wellbeing Survey, generating tailored reports of student health and wellbeing for each participating school. Schools also complete a School Environment Questionnaire which includes questions about parental involvement and schools have considered how they will share their reports with parents. Potential opportunities for the network to support research relating to connecting schools and families include: monitoring how schools are promoting family school connections as assessed through the School Environment Questionnaire; and linking parental involvement with student health outcomes from the student survey.
Alison Jones, Associate Adviser, Education Achievement Service (EAS) followed with an outline of her role in accelerating the progress of learners who face the challenge of poverty, and family involvement is central to this. Although the effect of parents and carers is greater for younger learners, parents can still make a difference throughout the school years. To coincide with the launch of the FaCE toolkit, EAS held a networking event in February 2016 – 'know your family and community' – and this included a showcase of initiatives for connecting schools and families. EAS is also developing professional development for teachers around strengthening community engagement in conjunction with the University of Wales, Trinity St David. Also, EAS work with the Children's Aid Society including visits to New York to learn more about community schools. Stronger families and healthier communities are at the heart of the community schools approach which they are looking to develop in Wales.
The final two speakers represented schools in Wales using innovative practice to promote family school connections. Firstly, Mrs Lindsey Watkins, Head teacher at Millbrook Primary school spoke about their approach to developing a community focussed school which includes engaging families. The approach is underpinned by two key principles: Millbrook as a research-engaged school; and an emphasis on partnership working. This includes developing a whole-school ethos building on the perspectives of children, parents, governors and community members.
Overall, they have seen improvements in educational standards as a result of better relationships with families and communities. One particularly effective programme has been a daily nurture class with Year 2 pupils in partnership with Communities First, with parents invited to work alongside their children. Key outcomes included levels of attendance, increased levels of parental involvement and a reduction in school exclusions.
The final presentation came from Rebecca Owen, Family Support Officer and Jo Underwood, Project Manager, St Martin's Comprehensive school. Rebecca and Jo introduced St Martin's whole school collaborative approach towards family engagement, with their main focus on trying to ensure that every child has the same student experience. They spoke about building a family project team, drawing on existing expertise and skill-sets within the school. Specific activities to strengthen parental engagement include: providing a breakfast club in the family room each day so that needs can be assessed early on in the school day; working across family generations, including grandparents; and raising aspirations by taking groups of students into universities. Overall their emphasis is on treating each student and family as unique and tailoring support towards their needs.
Future priorities for researching schools and families
One of the most useful aspects of the seminar was the way in which the presentations stimulated debates and discussion amongst delegates, and the seminar programme included time for round-table discussions which focussed on key questions for future research, and gaps or priorities.
A wide range of debate and questions were generated including:
the importance of capturing the views of a range of stakeholders including teachers, parents and children;
the need to consider family school connections from the perspective of minority groups including asylum seekers, refugees, and looked after children;
different issues for family engagement in primary and secondary schools, and around transition;
the wider utilisation of schools as a community hub; and
a need to capture the existing innovative practice that is already going on across Wales.
Shared agendas, synergies between health and education outcomes, the benefits of multi-disciplinary working, and a positive approach to addressing the challenges of connecting schools and families, were some of the main themes to emerge from the seminar. A Research Development Group will be formed to take forward the range of view-points and questions that were raised in the seminar.
Thank you to all the presenters, delegates and organisers. Please keep in touch about this area of DECIPHer's work by contacting Dr Jeremy Segrott. Presentations from the seminar will be available shortly on our website.