Guest blog contributed by Laurence Taggart
Laurence Taggart, who recently attended the DECIPHer short course on complex interventions at Cardiff University on the 27th September 2017, has been kind enough to write a blog detailing his experience of the day:
"I work as a Reader at Ulster University, Belfast. I lead the Centre for Intellectual & Developmental Disabilities and also run the Autism Research Hub. I have been in the research field for over 15 years now. I have supervised, and continue to supervise a number of PhD students, and lead on a number of funded research projects, most of these research projects are based upon the MRC's Guidelines for Complex Interventions. In undertaking research with people with intellectual and developmental disabilities, you encounter a number of methodological and practical challenges that make applying these MRC guidelines more complex.
I attended the DECIPHer training in Cardiff on complex interventions and realist process evaluation with another member of staff and a PhD student in 2017. The course highlighted to us that interventions in themselves are not complex, but it is in the systems (i.e. health services, education, etc.) that makes them complex. Recognising this complexity of such systems therefore allows researchers to rethink, redesign and examine interventions from a different theoretical and methodological perspective.
A major strength of the course is that each session was given by those staff that have published the leading papers on the following topics:
1) The core need for a trans-disciplinary team;
2) The importance of co-production and co-design in developing an intervention;
3) Understanding the context (system) where an intervention is to be delivered;
4) The significance of having both individual change theories and systems change theories in underpinning an intervention;
5) The benefits of the transdisciplinary team developing a logic model in order to understand how the intervention can be successfully implemented within the complex system; and
6) The use of a realist process evaluation to explore the dynamics and relationships between the different parts of the logic model (i.e. context, activities, resources, outcomes, impact).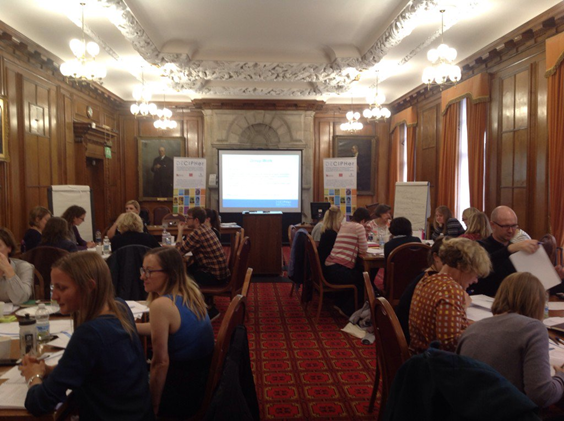 The course materials are provided on each day and are an excellent resource: these include many of the articles referred to on the course, the PowerPoint handouts as used on the day, and a full reference to further reading and resources. Many of the sessions are supported by clear examples of how this new research approach is being applied into practice, and there are ample opportunities to ask questions. The staff presenting are very friendly and approachable, and you are able to ask further questions after each session but also during the coffee and lunch breaks. The breaks are great sessions for networking with your peers on the course. To add, the lunch was healthy and very tasteful and not what you expect on a research course.
Many of the research participants were PhD students and junior academic/research staff, but also more senior colleagues, from a range of different disciplines and from across the UK, Europe and beyond. This makes the course more stimulating and interesting as you hear of different people's clinical and research experiences.
This course has without hesitation changed my understanding, and will change all my PhD student, research staff and future research projects understanding, of intervention development and intervention evaluation research. I would strongly encourage all research staff, whether those starting their PhD journey, early career researchers and more senior research staff to attend this course."
Find out more about the next DECIPHer short course here or contact a member of the DECIPHer team if you have any further queries or questions.