As visiting PhD student Torill Rotevatn prepares to return to Aalborg University, Denmark, she looks back on her six-month research stay at DECIPHer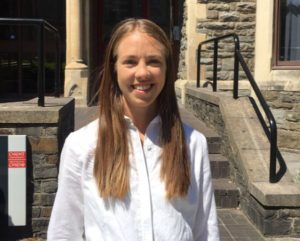 In September 2016, I started working on my PhD in The Public Health and Epidemiology Group at The Department of Health Science and Technology. My project aims to develop strategies for prevention of childhood obesity that can be initiated early in life with effect for all population groups across socioeconomic strata.
My first visit to Cardiff was in June 2017, where I completed the short course on Development and Evaluation of Complex Public Health Interventions. I had no doubts after the five-day course; I wanted to learn more about intervention development and evaluation from this ambitious and inspiring research group. My interest in DECIPHer originates from its strong focus on socio-ecological and complex thinking around problems and solutions, as well as how intervention contexts can affect intervention effects. I think these topics are important when working with composite public health problems like obesity and this is why I wanted to receive support with how I could embed these ideas into my work around intervention development. Through facilitation and support from Charlotte Overgaard, my main supervisor from Aalborg University, I was able to discuss my project and research interest in DECIPHer with its director, Simon Murphy, while attending the course. He told me about different opportunities to form a closer collaboration with the research centre. A couple of months later, my PhD project was accepted for "adoption" and I was invited to visit the research group for six months.
I had no doubts after the five-day course; I wanted to learn more about intervention development and evaluation
My visit to DECIPHer started on a cold day in early February. The cold, however, was nothing compared to the winters I am used to from growing up in Norway! I was warmly greeted on my first day by all the DECIPHer staff and students. Firstly, I was introduced to my mentor, G.J. Melendez-Torres, who has the day-to-day responsibility for my research and progress. I was then introduced to the rest of the group and given a desk space together with the other PhD students. The open office structure made it easy to initiate discussions on a variety of issues that could appear during the research process, and importantly, other students welcomed these discussions. I was also invited to attend their monthly PhD forums, where students discussed problems and hurdles that appeared along the way. I received valuable feedback and support from the group on a variety of matters during my stay. DECIPHer's other researchers were also located close by and they have all been helpful and willing to discuss my project and their work with me. I have also been given the opportunity to present my research to the research group meetings, where I got their feedback and thoughts on how I could proceed with my work.
During the time I have been visiting DECIPHer I have mainly worked on a comprehensive systematic review that involves identifying existing evidence on early life obesity prevention. Weekly meetings with G.J. have helped to give the review process the DECIPHer touch. We revised our initial sole focus of identifying intervention effectiveness and set around identifying important mechanisms and processes of relevant interventions. Such a focus, which involves working with both qualitative and quantitative evidence, will bring valuable knowledge of existing interventions into my own intervention development process.
Living abroad in another country gives you a special knowledge of culture and people that you can't learn from a book
Another reason for my interest in DECIPHer was its close collaboration with practitioners and policy makers, which I find very unique. It has been valuable to learn more about how such collaborations can enhance practice value and research. I am lucky to have been given the opportunity to communicate my research to public health practitioners in Public Health Wales, as they were interested to find out more about how my research could feed into their work on early life obesity prevention. This link can provide a vital pathway for my research to impact society, but may also be important in terms of potential collaborations in the future.
My stay here in Cardiff has been beneficial for both my professional and personal development. I have developed new research skills, got to know interesting people and learned how to live in a new country. Living abroad in another country gives you a special knowledge of culture and people that you can't learn from a book. The stay has given me a wider understanding of life in general and of all the everyday small things I might take for granted back home. Six months is a long time, but the nice people, vibrant city and beautiful surroundings made the time fly. I am grateful for the inspiration, support, relationships and knowledge I have gained from my visit to Cardiff and DECIPHer, and I look forward to returning one day.