Rakel Kavena Shalyefu (known as Kavena) is an Associate Professor in Lifelong Learning and Community Development at the University of Namibia, and one of the Phoenix Project Fellows visiting DECIPHer. Here she talks about what she hopes to achieve during her stay.
Tell us about your work in Namibia
I'm a Country Director for the International Higher Education Teaching and Learning Association (IHETL), a UNAM representative on Southern African Universities Learning and Teaching Forum (SAULT) and on the United Nations Educational, Scientific and Cultural Organization (UNESCO). I'm trained to be an instructional designer, a researcher, a professional educator, arbitrator, counsellor, consultant, distance education specialist, academic professional developer and community educator for social development, mental health, and general well-being.
Why did you want to get involved with the Commonwealth Professional Fellowship scheme?
Girls' education is continuously disrupted in many countries due to contextual factors and the environment where they find themselves. In most cases, their education remains incomplete and therefore they remain deprived. In many countries, their education is cut off before completion for numerous reasons like early marriage or pregnancy, household chores, cultural beliefs, gender roles, marginalisation and inequality to name but a few. Importantly, some girls do not have access to education for additional reasons like religion, culture, or poverty. Consequently, there are many barriers that require mitigation from an innovative perspective.
As a Fellow, I've been exposed to knowledge, skills, and attitudes pertinent to innovative interventions that can contribute change to the status quo. I feel lucky to have been selected for this prestigious Fellowship.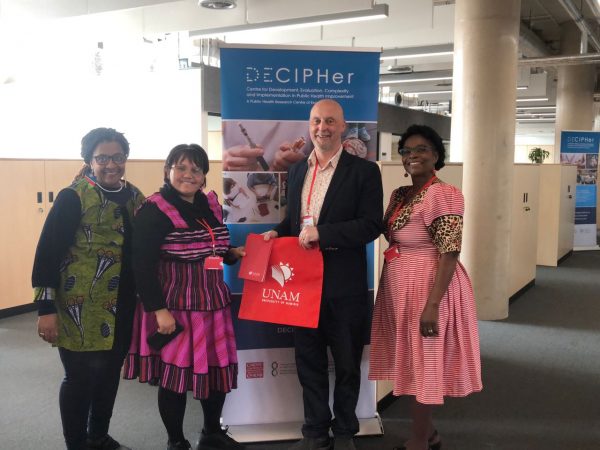 What are your goals while you are here?
Hopefully the change projects that we are working on may trickle down to other regions and countries to bring global change in girls' education. I feel fortunate to be chosen to jump-start or become an active agent in the change projects, either to support what is already existing or add more innovative interventions by engaging all stakeholders to make collaborative efforts of notable impact in my country.
What are you most looking forward to learning about while you are in Cardiff?
This opportunity is an add-on to my career path and a boost to my CV. I look forward to adding value to the existing mitigating interventions by particularly focusing on life skills for youth and adults using digital interventions. I am currently thinking of designing a change project using digital interventions, particularly aiming to use Facebook, Instagram, TikTok, WhatsApp and podcasts to fight the gender-based violence that is so common in Namibia. I've been reminded not to work in silo and now I yearn to engage all stakeholders and other CSC Fellows to collaborate for the design, development, implementation, and evaluation of the final change projects at a national as well as individual level.
What has been your highlight of your stay?
I was inspired by the Grange Pavilion in Grangetown. I would love to set up a similar accessible, community-minded space back home in Namibia.
Kavena's Twitter account can be found here: https://twitter.com/kshalyefu. Find out more about he Phoenix Project here: https://www.cardiff.ac.uk/phoenix-project.